Our Impact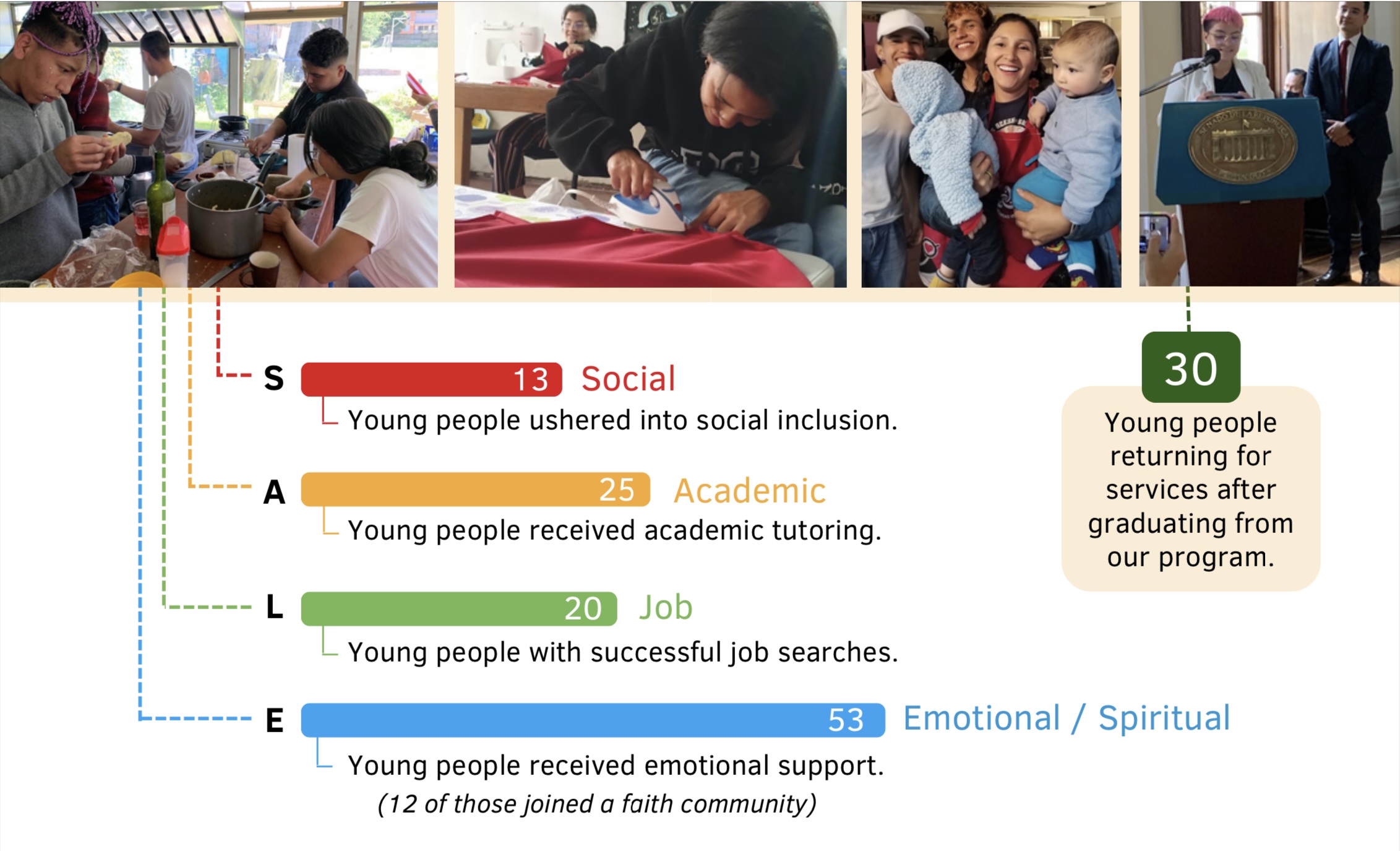 WHAT KINDS OF NEEDS HAVE WE SERVED?
In the first semester of 2023 we served more than 87 young people with all sorts of needs through our Resource Center and our Learning Lab. We also got over 120 volunteers involved with our work.
Check out some stories below!
Elena's strength is also her weakness: her independent spirit kept her alert to risks, but also immune to good advice. When she was about to take advantage of an apparently great opportunity to work abroad, we saw enough red flags to convene a task force to surround her and keep her from getting on that plane. When evidence of the sex trafficking nature of the job offer became evident, she decided to go anyway only to unmask the traffickers. Not on our shift! Through partnering with specialized organizations, Elena learned how to build a steadier path towards being a world changer. Go Elena!
Manuel had made it clear that his case worker forced him to come to our Resource Center, but he had no intention of getting involved. He was about to exit state care anyways, so what was the point? Truly, his profile did not fit any of the government-offered opportunities for higher education, so everything pointed to him being one more "forever-orphan" falling through the cracks. But after a few weeks engaged in our learning community, his case worker noticed a transformation big enough that he was considered for a scholarship in gastronomy, which allowed him to stay living in the state home until he finishes his career. What a close call!
—I'm too shy!—said Johana
—And I don't care about anything—said Mario
But the decision was made: we were going to plan a volunteering project with the children of an indigenous community in the northern desert of Colombia, and our cohort of ill-prepared young people was going to be in charge of putting every single detail together, from the logistics of food and transportation, to the theater plays and outdoor games. And put it together they did! In a matter of 20 weeks, these guys and gals went from quiet and disoriented, to empowered community leaders in a cross cultural setting. I get shivers just remembering that last night in the desert, celebrating their graduation from our learning lab in front of dozens of new friends.
Pablo may or may have not been a child soldier. His story is shady, full of holes and secrecy, but it is for sure that he comes from a region of Colombia with a lot of internal conflict = war. When he started coming to the program, he was jittery; a helicopter flying over would make him tense and suspicious. He had nervous twitches and a knee that wouldn't stop jumping. In group settings he wouldn't make eye contact and would sit in a corner, not participating. But now, we see a different Pablo. He has a smile on his face, and likes to give everyone hugs. He likes to teach classes on making jewelry and is working on selling some of his artwork. He flees when we are about to start our house church gathering… but ten minutes later comes back with some silly excuse and gradually sits closer to where the action is.
Over the last 15 years Viva Youth has made this young people a part of our family of faith—we actually call them our Cousins! We've learned many lessons and have developed effective and organic intervention models that increase interdependence and reduce their vulnerability.
In partnership with other faith-based communities, kingdom businesses and social organizations, we weave a thicker social fabric, closing the cracks. In the process, sonship with God is restored for hundreds of young, unadopted orphans. Their lives get a much needed jumpstart.
With everybody's help, we are effectively preventing and combating sex trafficking, incarceration, job exploitation, armed conflict recruitment, early pregnancy and abortion, loneliness and despair.
Let's weave some hope together!